Launch your

product

template

agency

e-book

course

service

newsletter

in minutes Build your site & sell online with one no-code tool
Launch your

product

template

agency

e-book

course

service

newsletter

in minutes
Build your site & sell online with one no-code tool
THE GO-TO TOOL FOR CREATORS
Build anything, sell anything From consultation to online courses and templates
✓ Notion Templates
✓ Guides and Online Courses
✓ Social Media Agency
✓ E-Book
✓ Newsletter
✓ Coaching
✓ Products & Software
and more...
THE GO-TO TOOL FOR CREATORS
Start and reach limitless growth A complete toolkit to scale yourself
NOCODE & NO DESIGN
Easy to customize, hard to mess up Your online presence always feels perfect
THE END OF JUGGLING MULTIPLE TOOLS
Your all-in-one tool Everything to build and make money online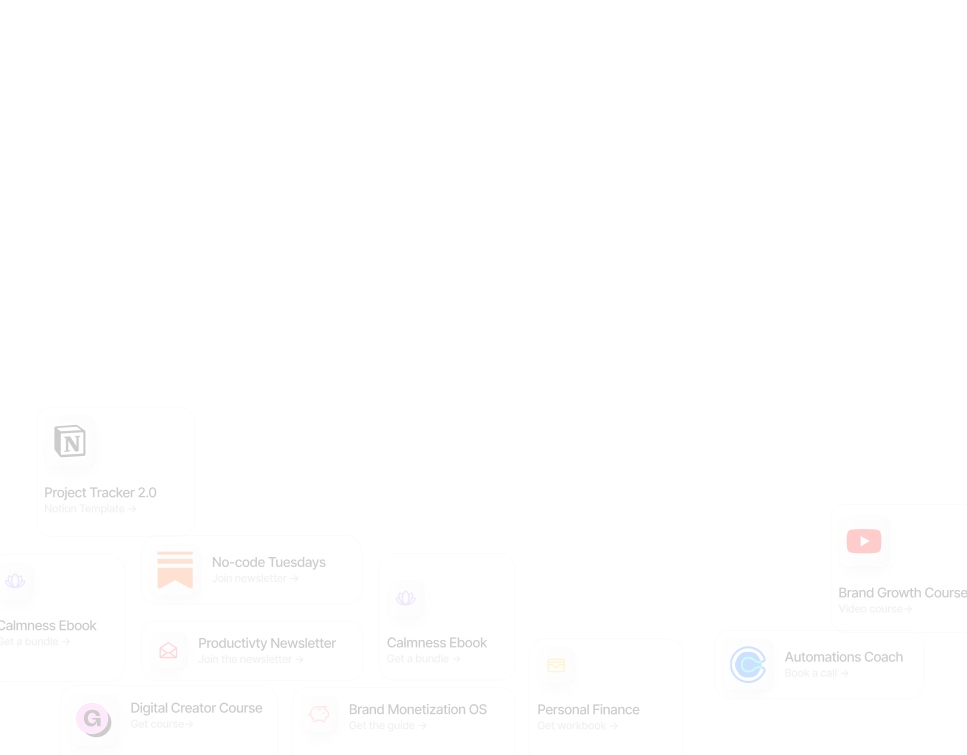 Showcase your Products & Services Sell freebies, digital products, accept payments
Build, own, and engage with your audience
PERFECT ON MOBILE & DESKTOP
Consistently impressive Meet your best link-in-bio yet
WALL OF LOVE
They all love building on Typedream Now it's your turn
Gumroad landing pages are boring.
And 95% of them aren't even converting.
Here's 9 steps to build a REAL landing page with Typedream:
Milo | Notion4Teachers @Notion4Ts
My Gumroad Pages: 2% Conversion Rate My @typedreamHQ Pages: 6-8% Conversion Rate Make custom landing pages 👍
Shoutout to @michwirantono for helping me build my @typedreamHQ
profile! Really loving this layout~
I miss my old hair cut sometimes 💇🏻🥲
Aprilynne Alter @AprilynneAlter
Just put up my new link in bio! 🎉
It's something I've been putting off for a while, and it feels SO GOOD to finally have it up
(thanks @typedreamHQ for the beautiful design!)
P.S. I've included something here that I haven't officially launched yet - can you spot it 👀
FREQUENTLY ASKED QUESTIONS
Still have questions?
SHIP IT TODAY
It's time to launch that

product

service

course

ebook

side hustle

template

agency

consultation
Copyright © 2023 Govest, Inc. All rights reserved.
Made in Typedream